St. Thomas, one of the three United States Virign Islands, along with St. Croix and St. John, St. Thomas is one of the most beautiful island destinations in the world, dressed with powdery beaches and sun-drenched weather. St. Thomas is located in the Lesser Antilles, 1,600 miles south, south east of New York City; 1,100 east, southeast of Miami; 70 miles of San Juan. St. Thomas and its nearby neighbor St. John, lay between the Atlantic and the Caribbean.
DID YOU KNOW... In addition to it's long and rich multicultural history, friendly people, open spaces, the blue sea and near perfect year-round weather, there are a number of reasons to consider relocating to St Thomas. Most importantly, the U.S. Virgin Islands, which includes St Croix, operate under U.S. law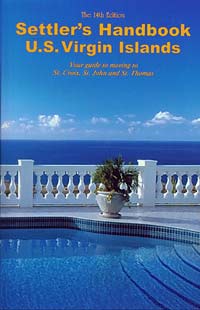 which is important in both business and personal matters. This means mainland US companies do business here including retail stores such as K-Mart, Radio Shack, and Western Auto, plus McDonald's, Wendy's and Pizza Hut. Also U.S. financial services such as Merrill Lynch and a variety of U.S. mortgage, insurance and banking companies offer local service.
U.S. cellular phone companies including AT&T, Sprint, and Cingular all operate here. For your off-island personal and commercial convenience, the US Post office operates here and both land line and cellular phone calls are treated as domestic calls, not overseas calls. Property taxes are favorable; there is no sales tax and, also, for residents of the U.S. Virgin Islands, there is no estate or inheritance tax. With all these advantages, why on earth would you want to live anywhere else?
Buy the The Settlers Handbook – Guide to Relocation. You would be foolish not to. It gives you all the answers.