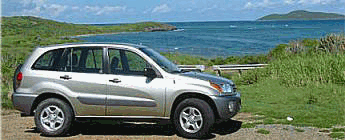 St. Thomas travelers may choose from a variety of transportation options, from buses to car rentals to limos. A full-service bus line operates throughout St. Thomas Taxi and Jeep services are readily available. Most taxi drivers are able to provide their passengers with comprehensive tours of their island. Taxi rates are based on destination rather than mileage and regulated by the US Virgin Islands Taxi Commission.
Driving on the left side of the road is only one of the differences you will experience while touring the island of St. Thomas. The island is thirteen miles in length and three miles at the widest point. St. Thomas is so compact its only town, Charlotte Amalie, is only a half hour's drive from its furthest point. St. Thomas has many winding roads. However, route signs allow for easy identification and give the direction in which you are traveling.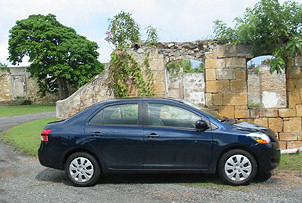 Driving in St. Thomas: Whether renting a vehicle or simply crossing a street, it is vital to remember that traffic in the USVI always flows from the lefthand side of the road. Speed limits are 35 MPH in the country and 20 MPH in town, unless otherwise posted.
For visitors who wish to take in the sights, a variety of options exist. You can enjoy an island tour via safari bus or taxi, rent a car or motor bike, or travel on the Vitran public bus system.
But this is a small island with limited pull-off points and taxis often pick up passengers while en route so sudden stops are commonplace. In addition, local drivers tend to slow up, in order to accommodate those making turns.
Taxi Service: Many taxis carry 8 to 12 passengers in vans and only these multi-destination vans service the Airport. The charge for a taxi exclusively for yourself for a trip from the Airport to Red Hook is $90 for up to 4 passengers total, each additional passenger over 4 is $15. each.
For exclusive transport within the Town limits it is $55 for up to 4 passengers, and $7.00 for each additional passenger.