About St. Thomas ► Plan you trip to St. Thomas

---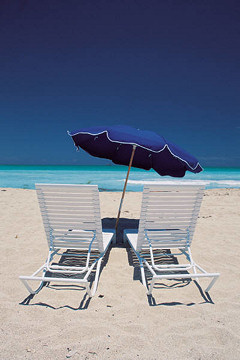 St. Thomas, one of the three United States Virign Islands, along with St. Croix and St. John, St. Thomas is one of the most beautiful island destinations in the world, dressed with powdery beaches and sun-drenched weather. St. Thomas is located in the Lesser Antilles, 1,600 miles south, south east of New York City; 1,100 east, southeast of Miami; 70 miles of San Juan. St. Thomas and its nearby neighbor St. John, lay between the Atlantic and the Caribbean.
Arrival - The language is English, the currency is the U.S dollar. U.S. citizens do not need a passport, (although frequently airline counter agents will ask for one when you are departing the U.S., but is not needed). Just be sure to have a valid proof of citizenship with a photograph, which you will need to show when leaving St. Thomas

Virgin Islanders - People living on St. Thomas are friendly, and a smile and "good morning" are expected good manners. Everyone speaks English, with the melodic accents and Creole influence of the Caribbean. Their heritage is of African traditions and the influence of seven settling nations, including French, Dutch, Spanish, British, Danish, and even the Knights of Malta, before becoming US citizens in 1917.

Time - The islands are on Atlantic Standard time, and never change their clocks. In the winter months, we are one hour LATER than Eastern Time.(9pm here, 8pm in New York!) In the summer, we are the same as the east coast when they are on Daylight Savings time.

Holidays - U.S. Federal holidays are observed, plus more than 20 local holidays! The government closes for all, the banks for most. Even the locals want to vacation and relax here!
---
---