About St. Thomas ► St. Thomas Ecology

---
Click below for everything imaginable to Tour St. Thomas.
---
St. Thomas Ecology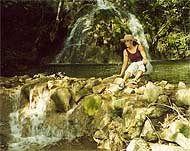 Spacious, pristine beauty is a rare find, yet on St. Thomas it is in abundance everywhere you look! Sweeping vistas reveal tropical waters glistening in every shade of blue imaginable, and a few you never though possible! Hibiscus, Bougainvillea, Red Ginger, Ixora, Poinsettia, and Bird of Paradise provide dramatic splashes of vibrant colors throughout the year. Even the trees here flower -- the fragrant frangipani in red, pink , yellow or white; the yellow or pink poui, striking at its height of 80 feet in full bloom; and the majestic Royal Poinciana, with its seed pods over two feet in length and vibrant blossoms giving it the nickname "the flame tree."

Pelicans dive the coves for fish, frigate birds glide effortlessly on the unending tradewind currents, egrets follow the Senepol cattle herds, hummingbirds and sugar birds dart among the flowers, and the island's equivalent of the squirrel -- the fast footed mongoose -- races across the road.

Sea turtles return each year to nest on the beaches. The endangered giant leatherbacks, the small green turtles, and the distinctive hawksbill, emerge from the sea, scoop out the sand, and lay their eggs. In the following months, thousands of two inch turtles made a mad dash to the sea, and only several dozen will survive to adulthood. Turtle watch groups monitor the nesting sites, and visitors may join the summer nighttime watches by contacting the St. Thomas Environmental Association.

But perhaps the favorite of all island wildlife is the tiny gecko - about six inches long at best, this little lizard is fast and funny, and welcomed because it eats the mosquitoes!
---